ISG Provider Lens™ report evaluates 60 social business and collaboration solutions providers
The popularity of social media platforms and applications is spurring enterprises to adopt "social business" models to better engage with employees and customers and improve collaboration, according to a new study publis published today by Information Services Group (ISG) (Nasdaq: III), a leading global technology research and advisory firm.
The ISG Provider Lens™ Social Business and Collaboration Quadrant Report evaluates 60 providers serving the U.S. market with enterprise-level and external customer-facing social collaboration solutions and services across five quadrants: social-centric collaboration, content-centric collaboration, social media management, chatbot platforms and social media consulting and managed services.
"Social business is becoming increasingly relevant for enterprises that want to engage with their employees, suppliers and customers and keep them happy. But the social business model doesn't happen by accident," said Esteban Herrera, partner and global leader of ISG Research. "It requires an organizational commitment to leveraging social networking principles to create efficient, state-of-the-art collaboration, modern client interactions, and retention solutions embedded within digital marketing channels."
End user familiarity with social media, especially among millennials, is a driving force behind the rapid adoption of enterprise social collaboration platforms and tools. This movement is being fueled by a do-it-yourself attitude among this demographic, who have brought social media use into the workplace, and expect it in their personal transactions. Such users are embracing crowd-sourcing technologies that enable better team collaboration, especially in DevOps environments, and are becoming more comfortable using AI-enabled interactive agents or chatbots to work smarter and faster and enhance customer service, the ISG report found.
For internal enterprise collaboration, traditional intranets are now giving way to modern team-centric or social-centric platforms. However, the report notes successful social collaboration goes beyond adopting market-leading tools and depends heavily on organizational culture.
"Social tool adoption can be counterproductive if forced through a corporate mandate," the report notes. Rather, it is best driven by "human interests and similar needs." Artificial intelligence and chatbots, meanwhile, are increasing the scope of enterprise social collaboration, and can make "smart workers work smarter through basic social-media tenets, like DIY features, content and employee and expertise search."
Content-centric collaboration solutions are best suited for enterprises with globally distributed workforces and dynamic content development, the report found. These solutions have evolved from simple cloud storage and enterprise file synch and share (EFSS) services to include digital asset management (DAM) and enterprise content management (ECM) features.
Vendors in this space are offering value-added services by increasing application program interface (API) support and integration with enterprise productivity applications. Co-editing, co-authoring and content sync over multiple devices and platforms are improving collaboration and collective content creation and management, the report said.
On the customer side, enterprises are faced with the challenge of managing brand-related social media engagement and digital marketing. Leading solution providers are using chatbots to manage interactions with customers over diverse social media channels and employing social listening tools to identify and engage with key brand influencers. Other providers are offering consulting services to develop social media strategies, and analytics and monitoring services to determine the ROI of social media marketing programs.
Although chatbots still have "a higher-than-optimal error rate and do not cover all interaction complexity," the report said leading providers are developing solutions that are "more like humans." They are leveraging machine learning, deep learning, natural language understanding and processing (NLU/NLP), voice recognition and simulation technologies to improve the user experience, both inside and outside the enterprise.
Among the diverse set of service and solution providers profiled in the report, only two were named market leaders in more than one quadrant: Google and Microsoft, each recognized for their capabilities in social-centric collaboration, content-centric collaboration and chatbot platforms.
In social media management, market leaders were Hootsuite, Lithium, Salesforce, Spredfast and Sprinklr, while in social media consulting and managed services, the leaders were Accenture, Cognizant Interactive and HGS. Beyond Google and Microsoft, other leaders included Atlassian, Jive and Slack for social-centric collaboration; Box, Citrix and Dropbox for content-centric collaboration; and Amazon, Chatfuel and IBM for chatbot platforms. (See figure.)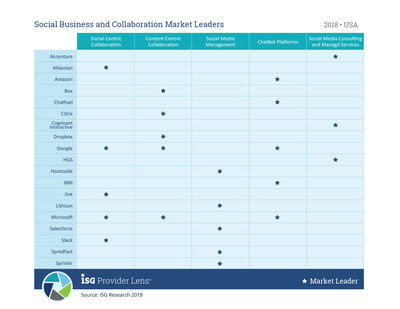 The ISG Provider Lens Quadrant report series draws insights on service provider capabilities from focused surveys, briefings, interviews with providers, input from ISG advisors, ISG benchmarking data, and data drawn from the ISG Contracts Knowledgebase™ and ISG Engagement Database™.  The series is a complement to the ISG Provider Lens Archetype reports, which offer a first-of-its-kind evaluation of providers from the perspective of specific buyer types.
The ISG Provider Lens Social Business and Collaboration Quadrant Report is available to ISG Insights™ subscribers or for immediate, one-time purchase on this webpage. A customized version of the report is available from HGS.
About ISG
ISG (Information Services Group) (Nasdaq: III) is a leading global technology research and advisory firm. A trusted business partner to more than 700 clients, including 75 of the top 100 enterprises in the world, ISG is committed to helping corporations, public sector organizations, and service and technology providers achieve operational excellence and faster growth. The firm specializes in digital transformation services, including automation, cloud and data analytics; sourcing advisory; managed governance and risk services; network carrier services; technology strategy and operations design; change management; market intelligence and technology research and analysis. Founded in 2006, and based in Stamford, Conn., ISG employs more than 1,300 professionals operating in more than 20 countries—a global team known for its innovative thinking, market influence, deep industry and technology expertise, and world-class research and analytical capabilities based on the industry's most comprehensive marketplace data. For more information, visit www.isg-one.com.