ADOTAS – It might feel like 2010 was the year of Android as Google boasts 300,000 Android devices activated daily, Nielsen found that Android devices were most popular with first-time smartphone buyers and the monthly OS ad impression share tied the previously dominant iOS on Millennial Media's mobile ad network.
But it seems the U.S. is still the iPhone's market to lose according to analysis by Asymco's Horace Dediu, as iPhones at AT&T outsold Android units at chief competitor by a factor of 2.5 during the first and second quarter of 2010.
It's pretty reasonable to compare the sales of the two American wireless giants: Verizon has 92.1 million subscribers while AT&T has 90.1 million. Together, Verizon and AT&T account for 75% of mobile data revenue and 62% of U.S. wireless users.
The Verizon sales data comes from ITG Investment Research, which employs Verizon smartphone sales data collected from thousands of independent wireless retailers. Verizon smartphone volume during the first two quarters (which includes BlackBerry and Palm devices) grew from 2.7 million to 3.3 million, but iPhone sales volume increased from 2.7 million to 5.3 million.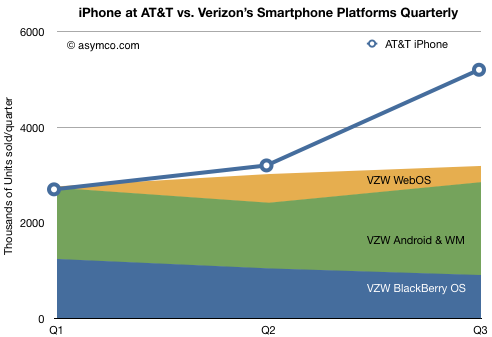 So it looks like the release of the iPhone 4 (Antennagate and all) really shot sales into stratosphere. Deidu argues that Android simply can't compete, and suggests an internal realization of that encouraged Verizon to pursue the iPhone again.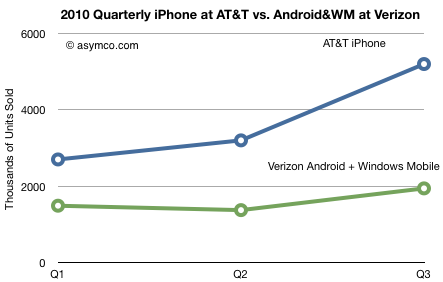 Once the iPhone 4 arrives at Verizon (rumored to happen early next year) it's bound to eat even further into U.S. Android sales. While this certainly doesn't mean that Android is dead in the water, it appears the Google OS will not steal the smartphone crown from iPhone anytime soon. How much for an iAd again?