ADOTAS – Apple thought it was safe when Hewlett-Packard canned its Google Chrome OS-powered Slate, but I don't know how the Cult of Cupertino is going to deal with this competition: the Indian government has unveiled a $35 tablet computer for students that it hopes to bring into production by 2011.
The Indian tablet forgoes a hard drive for a  memory card and actually has an optional add-on solar recharging unit (like WALL-E?) for India's less developed regions. It ain't fancy: the tablet can pretty much do word processing, web browsing and video-conferencing.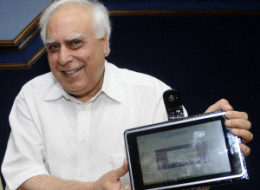 And check out that no-smudge screen! Wait a minute…
In addition, the government will subsidize the cost for students, bringing the tab down to $20. According to a human resource development ministry spokesperson, several manufacturers are interested in putting the device into production, but no deals have been signed.
I'm sure Apple is shaking in its boots — can you imagine if this thing got out of India? The horror…
Don't count HP out of the game yet — apparently rumors of the Windows 7-powered tablet's demise were grossly exaggerated as HP Personal Systems Group Vice President Todd Bradley told the Fortune Brainstorm Tech conference yesterday to expect Slate with a Microsoft OS later this year. Only it's going to be aimed at the enterprise market… Sorry consumers.
But don't bury your hopes yet: Jon Rubinstein, former CEO of Palm, which was acquired by HP earlier this year, told Fortune that version 2.0 of Palm's webOS will also be released later this year. So does that mean webOS-enabled HP mobile devices will arrive soon after? Must you keep us in such suspense, HP?
Finally, enjoy this highly irreverent CGI take on Apple's iPhone 4 trials and tribulations, brought to you by NMA News from Taiwan. It's not in English, but it's almost better to imagine what kind of crazy voiceover goes with this bizarre rendering. More videos, such as hilarious CGI coverage of Justin Bieber and Al Gore, can be found at the YouTube channel.